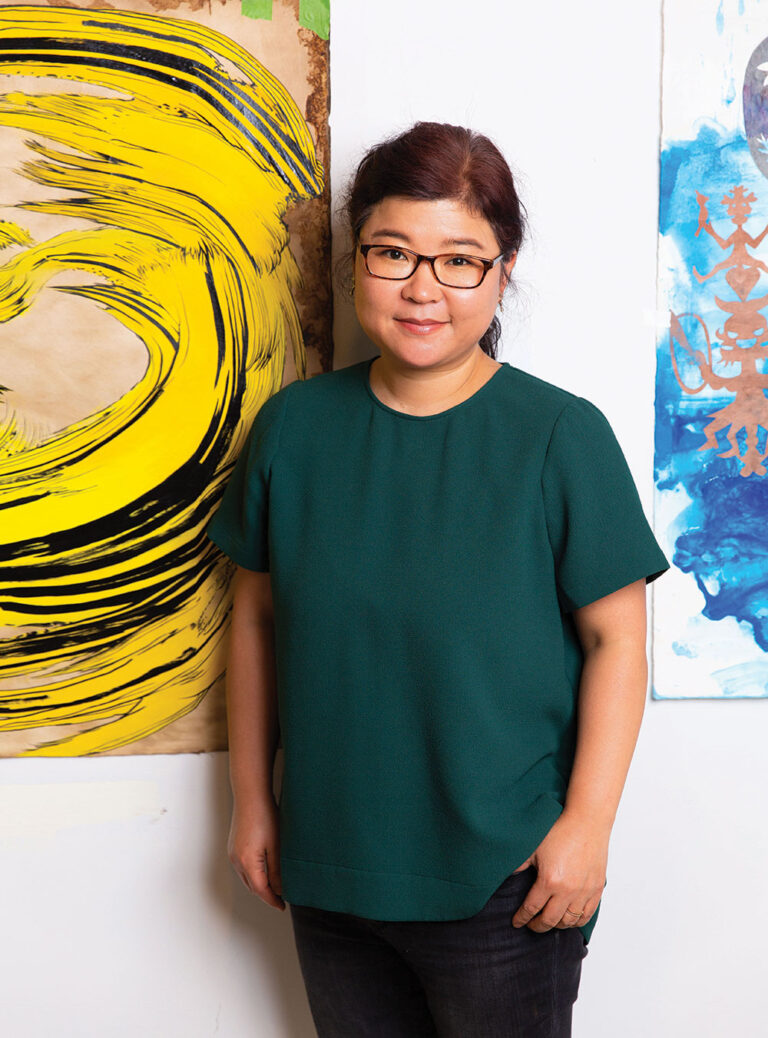 March brings a new artist to the walls (and pedestals) of TFA Advisory – the paintings and ceramics of Jiha Moon. With personal motifs and recognizable symbols presented in a constant changing sequence, her works seize your attention and captivate your mind as you decipher the imagery.
Jiha creates paintings, prints, and ceramic works that are saturated with cultural symbols of the East and West. Symbols that are immediately recognizable but given their juxtapositions, you just cannot put your finger on what it is or its name. In her words: "I am a cartographer of cultures and an icon maker in my lucid worlds."
Referring to her process as shaking up what is recognizable, she creates a dialogue by questioning, "What is identity in our global world of mixed ethnicities and races?" For example, the peach represents a fusing of cultures as it is both the symbol of Georgia (her adopted home state) and a symbol of happiness and longevity in the Korean culture. Then there is the fortune cookie: standing as is or transformed into a face, to Jiha it is Western creation and symbol of American identity, as no one knows what a fortune cookie is in mainland China. It is this misunderstanding of cultures and questioning of what is relatively recognizable that brings us closer to understanding one another.
The mingling of opposites plays into Jiha's chosen media as well. For her paintings she uses acrylic, invented in the first half of the 20th century, on hanji paper, a traditional Korean mulberry paper in existence for thousands of years and given the adage that it can last for 1,000 years. While the acrylic may be applied in spontaneous brushstrokes, the next step of outlining these marks is done through the slow and deliberate application of ink with a brush. The ceramics also have this contradiction as the bodies are wheel thrown then enhanced with hand-built elements and finished with similar hand-painted imagery that is found in her paintings.
Jiha Moon (b. 1973, DaeGu, Korea) is based in Atlanta, Georgia. She earned both BFA and MFA degrees in Seoul and an additional MFA and MA degree from the University of Iowa.