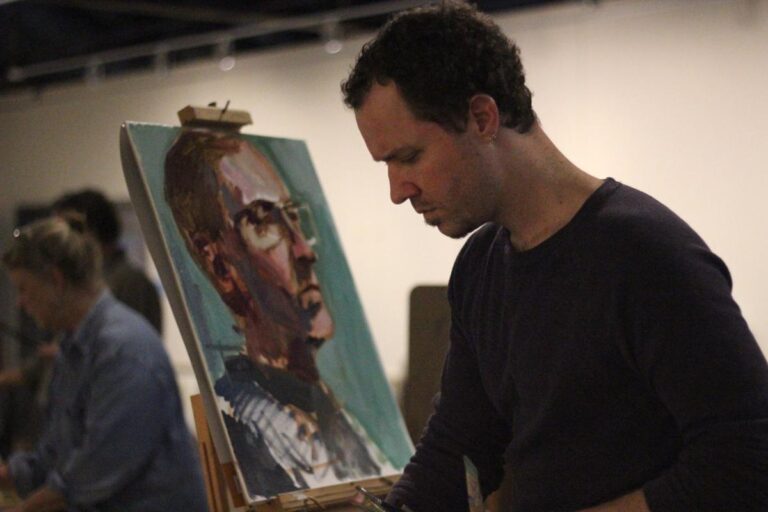 Urban space, with its curious patterning and myriad perspectives, is a meeting place for my disparate painting influences — among them rock art, quilt making, Western realism, Eastern landscape painting, and many modernisms.  I use a patchwork of freehand drawing and painting media with paper collage to depict a felt environment that is equally about architecture and absence.
Going way back, traces of our human story are compressed in earth and rock strata, while significant amounts of modern history sit adjacent to stone – as when it is cut, transported, used as a building material or aggregate in concrete, when it is walked on, swept with a broom, driven over, carved/engraved, or washed by hand.  I continue to be interested in the layers of shared history and distinct vantage points that make up cities and towns for these reasons.  Even while living, driving, and walking among them, some histories are known and remembered while others are lost, intentionally buried, or remain entirely unknowable. 
Raised in Tacoma, WA, Isaac Payne received his BFA from the Cleveland Institute of Art and MFA from City University of NY at Queens College. Isaac was featured in New American Paintings and International Painting Annual.  He was a yearlong Artist in Residence at McColl Center for Art. Exhibitions include the Marietta Cobb Museum of Art, North Carolina Museum of Art, Greenhill Center for NC Art, The New Gallery of Modern Art, Mason Fine Art, and Blue Spiral 1. Isaac lives and works in Charlotte, North Carolina, and teaches painting at Central Piedmont Community College.