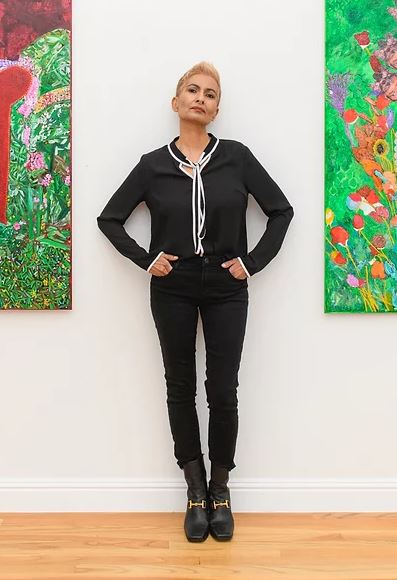 Starting in the mid 1800's, indentured laborers from India were sent throughout the globe as a substitute for slave labor. Renluka Maharaj's grandparents entered Trinidad and Tobago as indentured laborers to continue working on sugar plantations, and this has been a point of departure for ongoing dialogue and research for her.  
Her work is ultimately autobiographical, influenced by her family's history and the narratives, myths and folklore that were borne because of this migration. Working with photography, painting, installations, research and travel, her work investigates themes of history and memory and how they inform identity.
Ms. Maharaj was born in Trinidad and Tobago and works between Colorado, New York City  and Trinidad.  She attended the University of Colorado, Boulder where she earned her BFA , and her MFA at The School Of The Art Institute of Chicago in. She has received numerous awards including Martha Kate Thomas Fund, the Presidential Scholarship at Anderson Ranch Center and the  Barbara De Genevieve Scholarship.  Her works are in institutional collections including The Art Institute of Chicago, Museum of Contemporary Photography in Chicago, Joan Flasch artist book collection, Los Angeles Center for Digital Art, Flaten Museum, special collections at the University of Colorado, Boulder as well as numerous private collections. 
Her work has been recognized with awards including fellowships from the Vermont Studio Center, Fountainhead Residency, Virginia Center For Creative Arts as well as The Golden Art Foundation and the McColl Art Center Residency in North Carolina. She will also be attending a residency at Project For Empty Spaces in Newark, New Jersey in 2022.  Most recently, her work has been published in the second volume of Coolitude co-authored by Khal Thorabully and Marina Carter,  an amazing volume of stories, poems and visual art  which addresses Indian indentureship.  Her work will also appear in Elle India, Harper's Bazaar India and New American Paintings in the Fall of 2021.